Olive Tree Pruning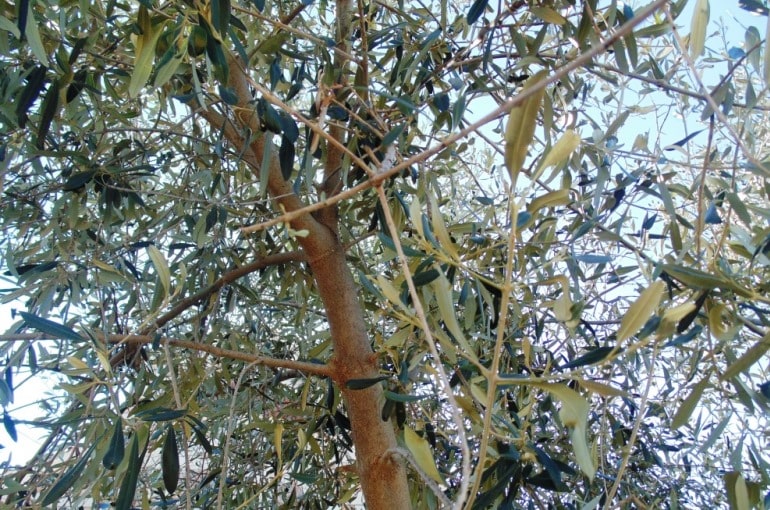 Trees
This post is also available in:
This post is also available in:
Español (Spanish)
Français (French)
Deutsch (German)
Nederlands (Dutch)
العربية (Arabic)
Türkçe (Turkish)
简体中文 (Chinese (Simplified))
Italiano (Italian)
Ελληνικά (Greek)
Português (Portuguese (Brazil))
polski (Polish)
Show more translations
Show less translations
How to prune olive trees
As it happens in the vast majority of fruit trees, the olive tree reacts positively to pruning. We prune the olive tree in order to create strong trunk and crown frame (this allows the tree to withstand heavy load and high winds), to ensure adequate (quantitatively and qualitatively) crop with the prompt production of new fruit-bearing wood and to facilitate harvest and application of plant protection programs. Pruning may also help us reduce the tree tendency to alternate bearing. Finally, we prune in order to extend the productive life of the olive grove and remove dead wood. Pruning of olives trees often takes place immediately after harvesting the olives in areas where there is no danger of frosts. In other cases, pruning takes place during spring (March-April).
When pruning, we must have in mind that the olive fruits can only grow in parts of the tree that grew the year before. In a few words, our purpose is to remove old growth, while trying to restrict the tree from becoming too big and dense. If we succeed in this, new growth will be promoted. Generally, we shall prune more the base and the lower branches, which normally have no fruit bearing prospects and no value. Then, we shall clean the center of the tree, so that sunlight can have direct access to the inner part of it. Sunlight penetration is extremely important for fruit growth. Old, broken and diseased branches must also be removed.
The frequency of commercial olive tree pruning ranges from once a year to once every two years. Not pruning our commercial olive trees for 3 or more years will definitely have a negative effect in production.
Read more on Olive Tree Pruning
You can enrich this article by leaving a comment or photo of your olive trees' pruning methods and techniques.
1.) Olive Tree Information & Uses
3.) Are Olive Farms profitable?
4.) Olive Tree Alternate Bearing
5.) Olive Tree Propagation & Pollination
6.) Olive Tree Climate – Temperature Requirements
7.) Olive Tree Soil Requirements
9.) Olive Tree Fertilizer Requirements
10.) Olive Tree Water Requirements
11.) Olive Tree Pruning
13.) Olive Trees Diseases and Pests
Do you have experience in Olive Tree cultivation? Please share your experience, methods and practices in the comments below. All the content you add will be soon reviewed by our agronomists. Once approved, it will be added to Wikifarmer.com and it will influence positively thousands of new and experienced farmers across the world.