Alfalfa Harvest & Yield per acre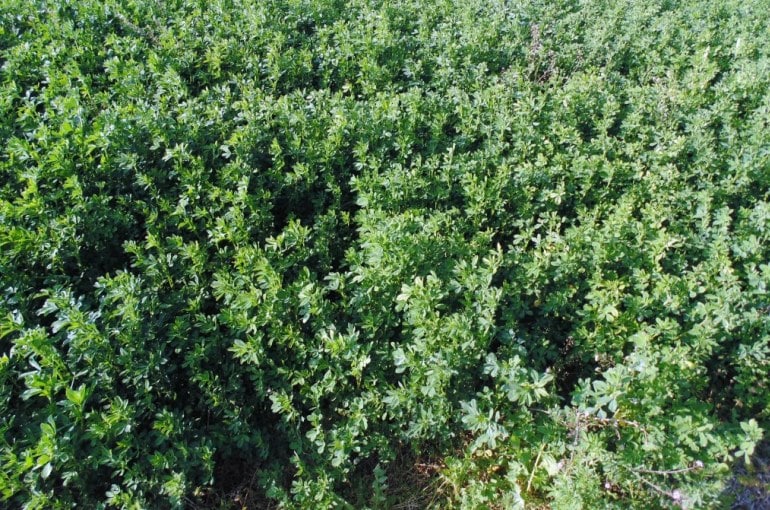 Forage
This post is also available in:
This post is also available in:
Español (Spanish)
Français (French)
Deutsch (German)
Nederlands (Dutch)
हिन्दी (Hindi)
العربية (Arabic)
Türkçe (Turkish)
简体中文 (Chinese (Simplified))
Русский (Russian)
Italiano (Italian)
Ελληνικά (Greek)
Português (Portuguese (Brazil))
Tiếng Việt (Vietnamese)
Indonesia (Indonesian)
Show more translations
Show less translations
Harvest of alfalfa normally takes place just before the flowering. Many experienced farmers claim that it's possible that you will never see alfalfa blossoms from seeding through plow down. The best time to cut alfalfa is in the morning. If we want to collect seed, the best period is during June-July of the third year. In this case, we do not harvest every 35-45 days. We let the flower bloom and produce seeds. Of course, in this case, we need the valuable activity of pollinators (honeybees).
There are various alfalfa harvest machines. As a rule of thumb, the machine should cut alfalfa as low as possible, but without damaging the crown. The most common alfalfa harvesting technique is to get the machine chop the plants, arrange them in rows and let them dry in the field. In this case, an unexpected rain will make the plants mold and will result in the decrease of the production's quality. Afterwards, a machine passes and turns 2 rows of harvested plants into 1. After ensuring that the plants have dried, a tractor pulling a baler arranges the hay into bales that weigh from 100 to 2800 lbs. (50 to 1300 kg).
The average total yield is 20-35 tons per hectare (or 8-14 tons per acre) per year (distributed in 5-6 cuts). Top yields (intensive farming) can exceed 40 tons per hectare or 16 tons per acre per year.
You can enrich this article by leaving a comment or photo of your alfalfa harvesting methods and yields.
1.) Alfalfa Uses & General Info
4.) Alfalfa Soil Requirements – Variety Selection – Weed Management
5.) Sowing and Seeding Rate of Alfalfa
6.) Alfalfa Fertilizer Requirements
7.) Alfalfa Water Requirements
8.) Alfalfa Harvest & Yield per Acre
Do you have experience in Alfalfa cultivation? Please share your experience, methods and practices in the comments below. All the content you add will be soon reviewed by our agronomists. Once approved, it will be added to Wikifarmer.com and it will influence positively thousands of new and experienced farmers across the world.
This post is also available in:
Español
Français
Deutsch
Nederlands
हिन्दी
العربية
Türkçe
简体中文
Русский
Italiano
Ελληνικά
Português
Tiếng Việt
Indonesia