Commercial Cultivation of Sweet Basil (Ocimum basilicum) for oil production
A complete cultivation guide for sweet basil
Basil belongs to the Ocimum genus of the Lamiaceae family. There are several types of basil depending on aroma/chemical features. The three types of sweet basil (Ocimum basilicum) that are mainly exploited for oil production are:
European sweet basil: It contains methyl chavicol and linalool as major compounds
Reunion type: It contains methyl chavicol and camphor but no linalool
Methyl cinnamate type: It contains methyl cinnamate as a primary compound, with methyl chavicol and linalool as minor compounds.
There is also a fourth type, called eugenol, but a different species, Ocimum gratissisum, is used to produce eugenol (1). Additionally, the Ocimum sanctum, also called Holy Basil, is cultivated to a small extent for its essential oil. Among the basils, sweet basil, also called French basil, which has methyl chavicol and linalool as major compounds, is very important for its use in the perfume and flavor industries. Thus, sweet basil is an economically important aromatic crop for farmers and is one of the most popular and widely grown herbs globally. The essential oil of sweet basil is widely used in the perfumery, toiletries, and food flavors.
The plant is native to areas of Asia, and countries such as India, France, the UK, and Reunion are among the main basil producers. The cultivation practices given here are for the French/sweet basil with methyl chavicol and linalool as major compounds for semi-arid tropical conditions.
Sweet basil is a perennial (usually grown as an annual) and the most common type of basil. This erect herb can grow up to nearly 120 cm and has white or purplish-colored flowers. Multiple harvests of sweet basil can be taken, one main and two ratoon crops, at short intervals.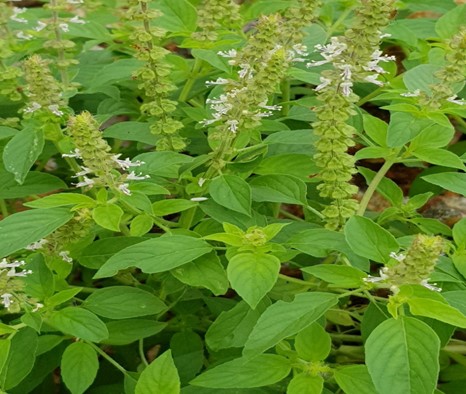 Agro-climatic requirements of sweet basil
Sweet basil is a versatile crop that can be cultivated in various soil and climatic conditions. Humid and high rainfall conditions are favorable for its cultivation. Loamy soils with a wide range of soil pH conditions support a good crop of sweet basil. Soils with a pH range of 4.3-8.3 support sweet basil. In subtropics, sweet basil is cultivated as a winter crop and in temperate regions as a summer crop.
Sowing/transplanting of basil
Sweet basil can be directly sown in the field, or seedlings raised in a nursery can be transplanted and used as propagation material for the crop. In case a grower uses seeds to start his/her plantation, seeds are sown in shallow furrows made at a 40-50 cm distance. Usually, a seed rate of 300-400g per hectare (100-150 gr per acre is used). In the other method, the farmer can use seedlings grown in raised nursery beds for nearly 30—40 days. The seedlings are transplanted in the field at a spacing of 30x30cm; between rows and plants. The field receives light irrigation, either surface or by sprinklers or drippers. It is essential to maintain plant population. If and when necessary, gap-filling should be done.
Nutrient requirements of basil – How to fertilize basil
It is important to test the soil for its nutrient status and apply the necessary amounts of fertilizers and manure following the recommendation of an agronomist.
In soils of medium fertility, a basil farmer can apply:
100 kg N in the form of urea or other sources,
40 kg P2O5 in the form of single superphosphate or other sources and
80 kg K2O in the form of Muriate of Potash (MOP) or other sources, along with
secondary and micro-nutrients, as per the advice of an agronomist
Generally, all P, K, and 1/3 of N are applied when sowing/transplanting 2. The rest of N is applied at 2-monthly equal splits. For the first and the second ratoon crops, 50 kg N/ha is applied in a single application after the earlier harvest. Potassium application is important if ratoons are taken due to the K depletion over time (2). It is essential to take care of deficiencies of secondary and micronutrients to derive good yields of sweet basil with good quality.
Ιntegrated nutrient management, a combination of organics and inorganic fertilizers, gives better growth and yield of sweet basil (3). If organic cultivation of sweet basil is followed, the use of vermicompost along with bio-inoculants helps to derive good yields (4).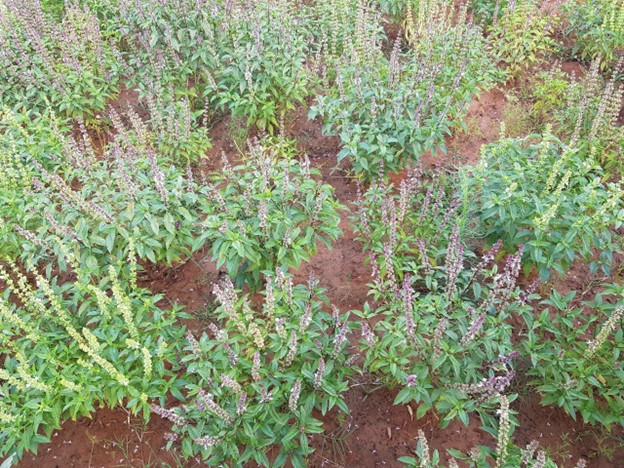 Weeding in basil – Basil weed management
The field should be weed-free in the initial stages to help the crop attain good growth. In the later stages, a fully grown crop competes well with the weeds, and intervention (weeding) is not needed.
Irrigation of Basil – Basil water needs
A light irrigation is required soon after transplanting; in a direct seeded crop, as seeds are sown in moist soil, immediate irrigation after sowing is not required. In non-rainy periods, weekly irrigations (1 inch or 25.40 mm) are given either by surface, sprinkler, or drip methods.
Pests and diseases of Basil
Normally sweet basil crop is not significantly affected by pests and diseases. However, Fusarium wilt (Fusarium oxysporum f. sp. basilicum), downy mildew (Peronospora belbahrii), bacterial leaf spot (Pseudomonas cichorii), damping off or root rot (Rhizoctonia solani; Pythium spp.), and gray mold (Botrytis cinerea) are some of the most common diseases a basil farmer may have to control. Similarly, aphids, cutworms, Flea beetle (Phylotreta spp), and Japanese beetle (Popillia japonica) are some common basil pests. In all cases, farmers should invest in preventive measures, and in case of infection or infestation, they should consult an agronomist to manage any specific pest or disease.
Basil Yield 
The main crops yield about 15-20 tons per hectare, and the first and second ratoon crops yield 8-10 and 3-5 tons per hectare, respectively. In total, a herb yield of 25-35 tons per hectare can be expected. An essential oil yield of 100-120 kg/ha can be expected.
Harvesting of Basil – How and When to Harvest Basil
Harvesting is done when the crop is in full bloom, well before seed formation. The content and quality of the essential oil reach their peak at this stage 5. The main crop is harvested in 80-90 days, and the two ratoon crops at 30-40 days intervals. Most of the essential oil is contained in the leaves and flowers, and therefore, harvesting stem portions should be avoided to derive good oil recovery.
References
Husain, Akhtar (1994). Essential Oil Plants and their Cultivation. Central Institute of Medicinal and Aromatic Plants, Lucknow, India pp. 292.
Prakasa Rao, E.V.S., K. Puttanna, R.S.Ganesha Rao and S. Ramesh (2007).  Nitrogen and potassium nutrition of French basil (Ocimum basilicum Linn.).  J. Spices and Aromatic Crops,     16(2), 99-105. 3.AL-mansour, B., Kalaivanan, D.  and. Suryanarayana,M.A. ( 2019). Effects of organic and  inorganic fertilizers on soil fertility, nutrient uptake and yield of French basil. Medicinal Plants  11 (1): 1-11.
Verma, S.K., Pankaj, U, Khan, K, Singh, R. and Verma, R.K. (2016). Bioinoculants and Vermicompost Improve Ocimum basilicum Yield and Soil Health in a Sustainable Production System Clean – Soil, Air, Water 2016, 44 (9999), 1-8.
Prakasa Rao, E.V.S., R.S.Ganesha Rao, K. Puttanna and S. Ramesh (2005).  Effect of harvesting time on oil content and oil quality of Ocimum basilicum.  Indian Perf. 49(1), 107- 109.
https://hortnews.extension.iastate.edu/1997/3-21-1997/basil.html#:~:text=It%20is%20native%20to%20Asia,tropical%20regions%20of%20the%20world.
https://extension.umn.edu/vegetables/growing-basil
http://plantclinic.cornell.edu/factsheets/basildiseases.pdf
Further reading:
Commercial Cultivation of Sweet Basil (Ocimum basilicum) for oil production
Distillation of Sweet Basil for Essential Oil
Patchouli cultivation guide – How to grow Patchouli Commercially for oil