Walnut Tree Information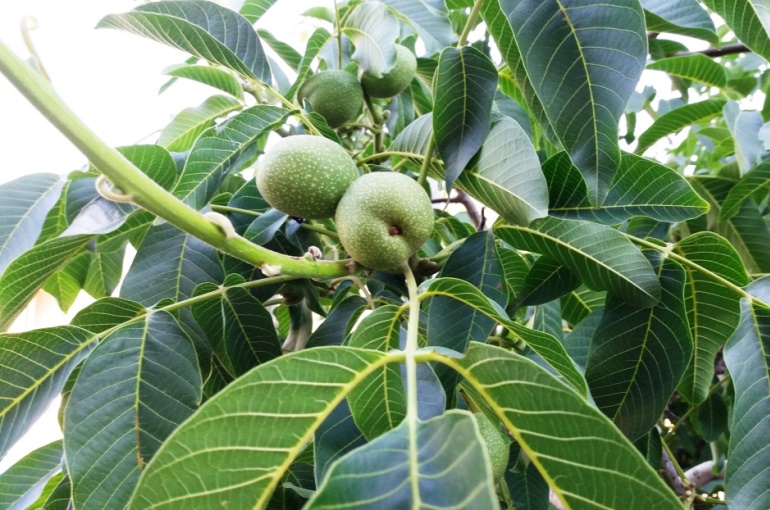 Trees
This post is also available in:
This post is also available in:
Español (Spanish)
Français (French)
Deutsch (German)
Nederlands (Dutch)
العربية (Arabic)
Türkçe (Turkish)
简体中文 (Chinese (Simplified))
Italiano (Italian)
Ελληνικά (Greek)
Português (Portuguese (Brazil))
Show more translations
Show less translations
Walnut Tree Facts – English and Black Walnut Tree Wiki
Although there are various trees in the walnut family (Juglandaceae), with the term walnut we name mostly two different trees, the English walnut and the Black walnut. English walnut (also called Persian walnut) originated in Iran, while Black walnut originated in North America. Both are deciduous trees (the leaves drop when in dormancy) and live more than a century. Both trees are cultivated worldwide for their nuts and their high quality timber, which is widely used in furniture, car interiors, doors and gun industry. However, we can say that English walnut is cultivated more for nuts and less for timber. On the other hand, growing Black walnut trees for timber is very common in US and other countries and is regarded as an investment option that will make great returns in the long term (two or three decades after planting the trees). Black walnut (scientifically called Juglans nigra) can reach a height of 100-120 feet (30-37 meters), while the average English walnut (Juglans regia) reaches a height of 80 feet (25 meters) in maturity. Both walnut trees produce chemicals that are toxic to many plants (tomato, potato, alfalfa, blueberry, apple and many more).
The walnuts are the seeds of a drupe and can be eaten fresh or dried. The nut meat is widely used for baking and it is often used as additive in various confectioneries. It is widely added in ice creams, cereal bars and many other sweets and snacks. Nut meat from English walnut tree is also used for producing walnut oil, which is edible. China, Iran, United States and Turkey are the world leaders in producing walnuts.
You can enrich this article by leaving a comment or photo of your walnut trees.
1.) Walnut Tree Facts & Uses
2.) How to grow Walnut Tree from nuts
4.) Walnut Tree Climate Requirements
5.) Walnut Tree Soil Requirements & Preparation
6.) Walnut Tree Propagation & Pollination
7.) Planting Walnut Trees – Number of Walnut Trees per Acre
8.) Walnut Tree Pruning and Thinning
9.) Walnut Tree Water Requirements
10.) Walnut Tree Fertilizer Requirements
11.) Walnut Tree Harvest & Yields
12.) Walnut Tree Diseases & Pests
14.) Wholesale walnuts online – Current Walnut Prices
Do you have experience in Walnut Tree cultivation? Please share your experience, methods and practices in the comments below. All the content you add will be soon reviewed by our agronomists. Once approved, it will be added to Wikifarmer.com and it will influence positively thousands of new and experienced farmers across the world.
This post is also available in:
Español
Français
Deutsch
Nederlands
العربية
Türkçe
简体中文
Italiano
Ελληνικά
Português