The most Popular Lemon Tree Varieties
Lemon Tree Varieties
Where did the lemon tree originate from?
The genus Citrus is one of the most important taxonomic subunits of the Rutaceae family. Lemons (Citrus limon) are one of the best-known and most-used genus species. Their scientific name is Citrus limon (L.) Burm. F. (Latin synonyms: C. x limonia, C. limonum). Research has shown that C. lemon is a hybrid that has been formed as a result of the cross of two species of the Rutaceae family; C. aurantium and C. medica. 
The location of the original natural habitat of the lemon is not accurately known, but it is considered native to North-Western or North-Eastern India. 
Lemons are a widely cultivated species. They have been cultivated in Italy since 201 – 300 AD, Iraq and Egypt since 700 AD, and Spain since 1150 after the Arabs introduced them. In 1297 Macro Polo's expeditions brought lemon trees to China. Later, in 1493, Christopher Columbus brought lemon seeds to North America, resulting in the worldwide commercial production of C. limon in the 19th century, especially in California and Florida. Nowadays, Mexico, China, Argentina, Brazil, Spain, Turkey, and the USA play a significant role in C. limon production. However, India is the world's largest producer, with 2.978.00 tons of lemons per year. 
What are the main botanical characteristics of lemon trees?
Tree height: 2.5-3 meters
Leaves: Evergreen, lanceolate
Flowers: Bisexual, white with purple tinge at the edge of petals
Fruit: Elongated, oval, pointed green berry that turns yellow during ripening
Peel (Pericarp): Wax-covered, leathery, thick 
Soil: Loamy, well-drained, moist
pH: Wide range 
Location: Mostly sunny 
What are the main cultivated varieties of lemon?
The botanical classification of lemon species is complicated due to the frequent formation of hybrids and the introduction of numerous cultivars through cross-pollination. To obtain fruit with valuable organoleptic and industrial properties, hybrids are produced. Hybrids can provide seedless fruits, the required taste and high juiciness. Molecular techniques are needed to identify older varieties, hybrids, and cultivars. C. limon gives rise to numerous varieties, which are presented below.
EUREKA [C. limon 'Eureka' (Eureka lemon)] 
Eureka lemons originated in California and Sicily. They are cultivated in the Mediterranean Basin, California, Australia, Argentina, South Africa, and Israel. The fruit is considered small, has an
 elliptical shape, and is oblong. Its flowers have a pink shade. The peel is of moderate thickness, and its skin is usually smooth, but wrinkles can appear. The fruit's flesh has a greenish-yellow color and a very tender and sour taste. Ripe fruits are bright yellow. Eureka lemons are mostly seedless or contain a small number of stones. The tree is medium-vigorous, laterally branched, and thornless with sparse leaves. It is a highly productive variety with a rapid entry into fruiting. It produces fruit all year round, but the main yield occurs from late winter to early summer.
On the other hand, it is a short-lived variety and very demanding in climatic conditions and soil. Eureka trees are sensitive to cold, drought, insect-caused disease, and negligence. 
Finally, a piece of essential information for growers – Eureka is incompatible with the rootstock of the C. aurantium tree (bitter orange or bigarade orange).
LISBON [C. limon 'Lisbon']
Lisbon lemons originated in Portugal and are mainly cultivated in California, Arizona, Australia, Uruguay, and Argentina. The fruit of this variety is medium in size, elliptical to oblong in shape, with pink flowers. It has thick skin with a rough surface and pale-yellow flesh. The branches exhibit dense foliage and carry long spines, a distinguishing characteristic of this variety. The lemons have a bright yellow color when ripe. This variety is single-bearing and mostly seedless. The tree is vigorous and upright. It is a very productive variety, especially in California. It is less demanding than the Eureka variety and particularly resistant to frost, wind, and high temperatures. However, it is a late variety meaning that lemons reach full maturation late in the season, usually after the summer; that's why its cultivation is recommended for southern regions. 
GENOVA [C. limon 'Genova' (C. limon 'Genoa')]

Genova lemons originated in Italy and are cultivated in California, Florida, and Chile. When ripe, the fruit is bright yellow, with a marked tip and a smooth and thin pericarp. It has an alluring appearance and takes up an ellipsoid shape with a protruding neck and nipple. The fruit is medium in size and reaches complete maturation much faster than other varieties. The tree has dense foliage, and its branches are spike-free. It tends to grow more like a shrub than a bush, meaning it spreads out more than it rises, making harvest work easy. This variety is more resistant to cold weather and frost than other lemon tree varieties. It contains few stones and has a noticeably high juice content. 
BERNA [C. limon 'Berna' – (C. limon 'Verna'), Verma lemon]
Berna lemons originated in Spain and are mostly cultivated in Morocco, Algeria, and Spain. The fruit is small with an oval to ellipsoidal shape. Its peel has a distinct granular surface and is of moderate thickness. The flesh is brightly colored, with a medium amount of sweet juice. The tree has no spines, and the leaves are long, narrow, and sparse. After ripening, the color of the fruit turns green. A promising characteristic of this variety is its ability to keep the fruits on the tree for a long time – without compromising their quality. The fruit is also resistant to transport and handling. It is a late variety, with particularly slow-growing patterns and slow onset of fruiting. However, it is very productive. Fruits from individual harvests differ in properties and are called 'Cosecha" (main collections), 'Secundus' and 'Rodrejos'. Berna lemons are considered inferior in quality.
PRIMOFIORI [C. limon 'Primofiori' (C. limon 'Fino', C. limon 'Mesero', C. limon 'Blanco)]
Primofiori lemons originated in Spain and are mostly cultivated there, where they are considered the most important variety. Fruits are medium-sized and spherical or oval in shape, with a typical small wart at the end. The peel has a smooth rind texture, and the flesh is very juicy and acidic, containing seeds. Even though Primofiori lemons are not as big as Berna lemons, their leaves are larger, and the branches exhibit spines. The blooms have high pollen viability and intense sent. The tree size can range from medium to large, with the height of a fully matured tree rising to 16 feet. It's a hardy tree, surviving even in slightly colder climates. This variety is very productive and one of the earliest in production; it's also a relatively newer variety, more acidic.
FEMMINELLO [C. limon 'Femminello', C. limon L. Burm.f.]

Femminello lemons originated in Italy and are cultivated only in their place of origin for commercial purposes. The medium-sized fruits are elliptical to oblong with a neck that varies from short to long and a nipple that ranges from short and blunt to long and tapered, depending upon the selection. The rind is medium thick, finely pitted with sunken oil glands, and yellow at full maturity. The flesh is pale greenish-yellow, low-seeded to seedless, juicy, and very acidic. Femminello lemon types are the most important lemon group in Italy. They grow vigorously and are of moderate size at maturity. The trees tend to have few spines. It's a very productive and everbearing variety. The Yuma Ponderosa variety is the most suitable rootstock for Femminello trees. In Italy, Femminello lemon trees are culturally managed to produce four crops per year. The autumn crop is called Primofiori, the winter to spring crop is called Limoni, the spring is called Bianchetti, and the summer crop is called Verdelli. There are several named selections within the Femminello group, and the primary seasons and fruit characteristics vary with the selection.     
VILLAFRANCA [C. limon 'Villafranca']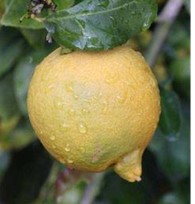 Villafranca lemons originated in Sicily and are cultivated commercially in Florida, Israel, and North-West Argentina. The fruit is yellow with vague green stripes, while the pulp and the juice have a light pink shade. The flesh is juicy and contains more seeds than the Eureka variety. The tree is very vigorous and needs at least 6-8 hours of sunlight per day and moderate watering for optimal yields. 
INTERDONATO [C. limon 'Interdonato']
Interdonato lemons originated in Italy, which is the main location of their cultivation. The fruit is large with an elongated or cylindrical shape. It has a short neck with a developed nipple. The peel's surface is very smooth, and the peel has medium thickness. The flesh is slightly more bitter than other varieties and has a vibrant green-yellow color. Its foliage is moderately dense, with large leaves that resemble those of citron. It is a particularly vigorous tree, quite productive, and an early variety. It is the earliest of the Italian varieties. Its fruits ripen during September-October. This variety has no spines and a few seeds; it produces lemons mainly in autumn and spring. Finally, Interdonato is considered resistant to Mal secco (Phoma tracheiphila).
BEARSS [C. limon 'Bearss' (C. limon 'Sicilian'), Bearss lemon]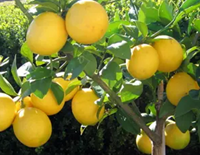 Bearss lemons originated in Florida and are mostly cultivated in Florida and Brazil. Its fruit measures roughly 3-4 inches across and resembles the Lisbon lemons. The fruit also has fewer seeds in comparison to other varieties. The flowers are aromatic, and the flesh has a high juice content. The tree grows up to 20, shows vigorous growth, and has thornless branches. This variety is very productive, and its fruits grow particularly fast. However, it should be taken into consideration that Bearss lemons are sensitive to low temperatures. They grow better in semitropical regions; however, they can also survive colder climates with special care. 
MONACHELLO [C. limon 'Monachello']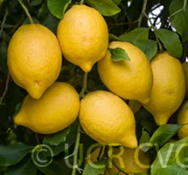 Monachello lemons originated in Italy and are mostly cultivated there. They are native to the island of Sicily, where they are cultivated around the base of Mount Etna, an active volcano. The fruit is medium to large with an elongated, elliptical, to oval shape. They have a bulbous center, tapering towards both ends. The fruit's surface matures from green to bright yellow and is smooth and thin, covered in large sunken oil glands giving the peel a textured, dimpled feel. Underneath the surface, the spongy, white pith can be semi-thin to thick. The flesh has low acidity and a sweet flavor, and the amount of juice is generally small compared to other Italian lemons and is either found seedless or contains cream-colored seeds. Monachello lemons are highly fragrant and release aromatic essential oils. The plant is remontant, slow growing, and compact. It has a spreading growth habit, and numerous pendulous branches with short internodes, resulting in a very thick canopy. The lemons are not very evenly distributed on the tree and are less acidic than the Femminello Comune variety. The preferred rootstock of this variety is the Yuma Ponderosa lemon tree. Recently, it has become increasingly popular with citrus growers due to its high resistance to the Mal secco disease. 
SANTA TERESA [C. limon 'Santa Teresa' (C. limon 'Feminello Santa Teresa', C. limon 'Italian')]
Santa Teresa lemons originated in Italy and are cultivated in Italy, North-West Argentina, and Turkey. This relatively new Italian variety of Femminello Ovale is considered promising due to its greater resistance to Mal secco than other varieties. The first tree was discovered in a Femminello orchard that had been nearly destroyed by the disease. The variety is planted in locations where the disease is severe. The fruit is small to medium-sized. The flesh has a sour taste but also a hint of sweetness.
For this reason, it is preferred for the preparation of Limoncello. Its rind is of medium thickness with a large amount of essential oils. As a tree, it is vigorous, upright with dense foliage and large, thick leaves. It is a late variety with high productivity. Apart from being disease resistant, it is also resistant to storage and transportation. It is recommended only for warm, frost-free areas.
VARIEGATA [C. limon var. Variegata (C. limon' Eureka' var. Variegated, Pink-fleshed lemon)]
Variegata lemons originated in California, the main location of their cultivation. They were established due to the intrinsic mutation of C. limon 'Eureka' in 1931. The pulp and the juice have a pink shade. The fruits are yellow with green stripes and variegated leaves. The green stripes fade with ripening. The tree rises up to 10 to 15 feet and spreads out to a width ranging from 11 to 15 feet. It is characterized by curious multicolored leaf patterns. The tree branches have thorns, and the fruit is widely spaced on them. Variegated pink lemons are considered popular for their ornamental value, sweetness, and juice content. The tree is also a favorite to most home gardeners for its beautiful foliage, hardiness, and low-maintenance nature.
Apart from the varieties, 
C. limon
 has four main hybrids which are worth mentioning.
LEMONIME lemon hybrids originated from the species C. limon and C. aurantifolia. The fruits are larger than limes.
LUMIA lemon hybrids originated from C. maxima and C. medica, which were then hybridized with C. limon. The fruit resembles a pear, and it can grow to large sizes. 
PONDEROSA lemon hybrids originated from the species C. limon and C. medica. The fruit has a shape similar to a pear and a very thick pericarp.
VOLKAMER lemon hybrids originated from the species C. limon and C. aurantium. The fruits are much smaller than C. limon varieties; they have a few seeds and a thick, rough, light reddish pericarp. Their flesh has a yellow-red shade. This hybrid is resistant to many diseases. 
In conclusion, understanding the diverse lemon tree varieties available can greatly benefit farmers in their cultivation endeavors. By considering the specific climate and environmental conditions, farmers can select the most suitable lemon variety for their region. For warm and tropical climates, varieties such as Eureka, Lisbon, and Villafranca are recommended due to their adaptability and high productivity. Meyer and Genoa lemons thrive in milder or cooler climates, offering sweeter flavors and aromatic qualities. Additionally, factors like soil type, disease resistance, and intended use should also be considered when choosing a lemon variety. Farmers can optimize their yields, enhance crop quality, and ultimately reap the rewards of successful lemon cultivation by carefully selecting the appropriate lemon tree variety.
Further reading
References
Klimek-Szczykutowicz, M., Szopa, A., & Ekiert, H. (2020). Citrus limon (Lemon) Phenomenon—A Review of the Chemistry, Pharmacological Properties, Applications in the Modern Pharmaceutical, Food, and Cosmetics Industries, and Biotechnological Studies. Plants, 119 (9); doi:10.3390/plants9010119
Zhu, Z. et al. (2023). Quantitative metabolomic analysis reveals the fractionation of active compounds during lemon fruit juicing. Food Research International, 169; https://doi.org/10.1016/j.foodres.2023.112829.
Smith, J., Johnson, A., & Davis, B. (2023). The effects of temperature on plant growth. Journal of Botanical Studies, 45(2), 123-137.
Wagner, Y. et al. (2021). Rapid stomatal response in lemon saves trees and their fruit yields under summer desiccation, but fails under recurring droughts. Agricultural and Forest Meteorology. 307 https://doi.org/10.1016/j.agrformet.2021.108487.
https://specialtyproduce.com/produce/Monachello_Lemons_10959.php
https://citrusvariety.ucr.edu/crc3500
https://edis.ifas.ufl.edu/publication/CH159
https://www.aphis.usda.gov/aphis/ourfocus/planthealth/plant-pest-and-disease-programs/pests-and-diseases/citrus
https://green-ecolog.com/15338151-types-of-lemon-trees#menu-5