Sowing and Seeding Rate of Alfalfa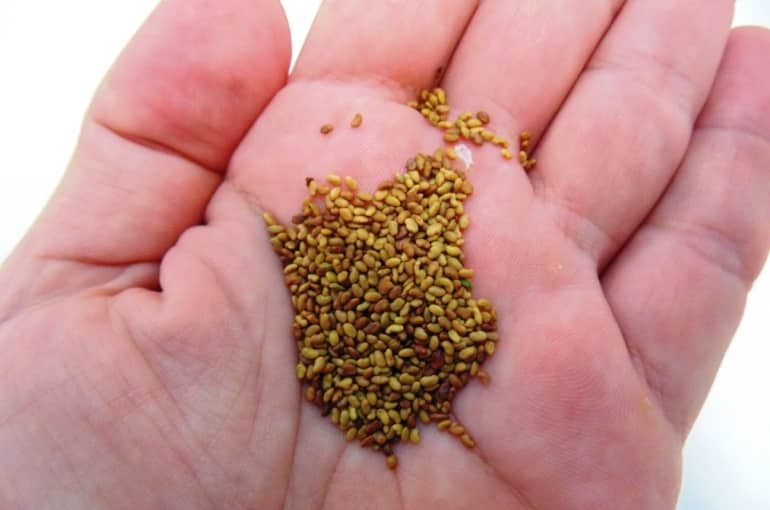 Forage
This post is also available in:
This post is also available in:
Español (Spanish)
Français (French)
Deutsch (German)
Nederlands (Dutch)
हिन्दी (Hindi)
العربية (Arabic)
Türkçe (Turkish)
简体中文 (Chinese (Simplified))
Русский (Russian)
Italiano (Italian)
Ελληνικά (Greek)
Português (Portuguese (Brazil))
Tiếng Việt (Vietnamese)
Indonesia (Indonesian)
Show more translations
Show less translations
How to sow Alfalfa seeds – Alfalfa Seeding Rate and Number of Plants per Acre
Alfalfa seeds can be sown during autumn or spring. It is more common to sow on spring. On average, we need about 44-88 lbs. (20-40 kg) of raw seeds per hectare, or 17-36 lbs. per acre. (Keep in mind that 1 ton = 1000 kg = 2.200 lbs. and 1 hectare = 2,47 acres = 10.000 square meters). In United Stated, large scale farmers sow alfalfa seeds through high quality and precision contemporary sowing machines. In this case, they use a seeding rate of 15 lbs. per acre. When using these machines, adding more than 15 lbs. of seeds per acre has not been found to increase the total number of healthy mature plants of the field and hence the total yield.
If the seed that you have purchased is not raw (as the nature provides it) and has rather been treated, you have to ask your supplier about the exact seeding quantity per hectare, because it may differ significantly. Be sure to select quality seed that has been purified and cleaned from other weeds seeds, because otherwise your plants will suffer and underperform due to the weeds' competition.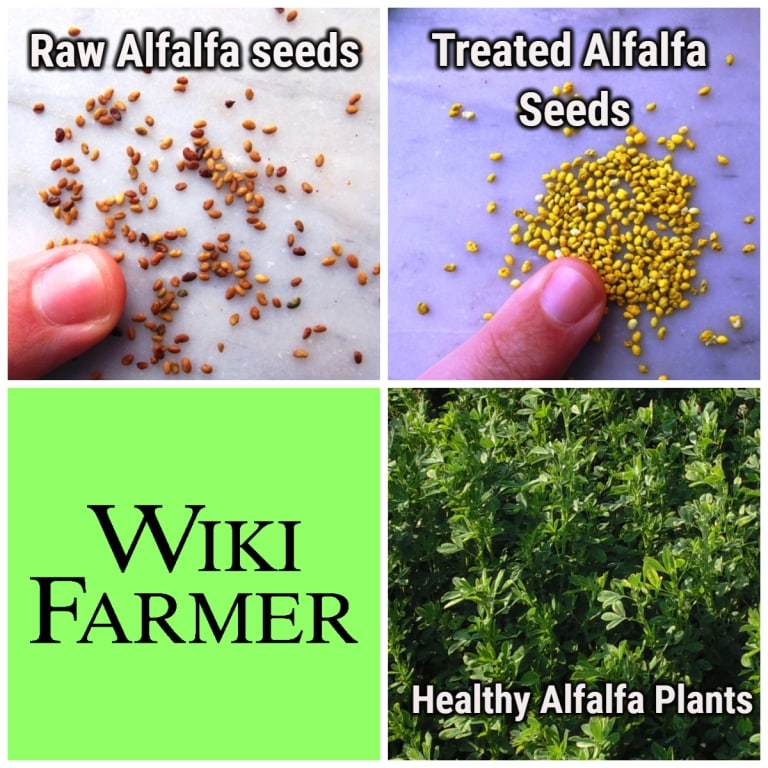 Alfalfa seeds are sown in rows using sowing machines that are attached to tractors. The sowing depth is about 1/4 inch (0,6 cm). The distance between rows is normally 8 inches (20 cm) or less. About a week after the sowing, you will probably see the first sprouts. About two weeks after sowing, you will normally be able to count at least 25 new plants per square ft. or 269 plants per square meter. If you can count less than 8-10 plants per square ft. (or 96 plants per square meter) three weeks after sowing, you may have to consider plowing the field and sowing again. Many farmers add a phosphorus fertilizer in the alfalfa sowing machine, because any phosphorus deficiency will inhibit alfalfa's root development (ask a licensed agronomist in your area). In general, the number of alfalfa plants per hectare declines as the crop matures. During the first year, we normally have 25 plants per square foot or 269 plants per square meter. However, at the end of the third year, we normally have 10 plants per square ft. or 107 plants per square meter.
You can enrich this article by leaving a comment or photo of your alfalfa seeding equipment or technique.
1.) Alfalfa Uses & General Info
4.) Alfalfa Soil Requirements – Variety Selection – Weed Management
5.) Sowing and Seeding Rate of Alfalfa
6.) Alfalfa Fertilizer Requirements
7.) Alfalfa Water Requirements
8.) Alfalfa Harvest & Yield per Acre
Do you have experience in Alfalfa cultivation? Please share your experience, methods and practices in the comments below. All the content you add will be soon reviewed by our agronomists. Once approved, it will be added to Wikifarmer.com and it will influence positively thousands of new and experienced farmers across the world.
This post is also available in:
Español
Français
Deutsch
Nederlands
हिन्दी
العربية
Türkçe
简体中文
Русский
Italiano
Ελληνικά
Português
Tiếng Việt
Indonesia