Q&As Cotton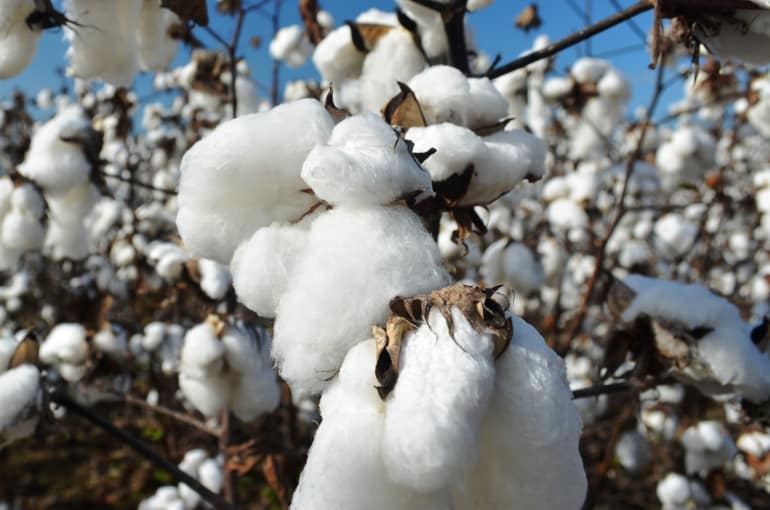 Special Crops
This post is also available in:
This post is also available in:
Español (Spanish)
Français (French)
Deutsch (German)
Nederlands (Dutch)
العربية (Arabic)
Türkçe (Turkish)
简体中文 (Chinese (Simplified))
Русский (Russian)
Italiano (Italian)
Ελληνικά (Greek)
Português (Portuguese (Brazil))
한국어 (Korean)
Show more translations
Show less translations
Is Cotton planted every year?
Yes. Exactly as it happens with tomatoes, peppers and other plants, although cotton is a perennial plant, we cultivate it as annual. This means that we sow the seeds during spring, we harvest the fibers (and seeds) during fall and then we plow and destroy the plants. We can sow again next spring.
Where is Cotton plants grown?
Cotton is grown in areas with warm climate. China, US, Uzbekistan, Brazil and Turkey are some of the world leading countries in producing cotton. Inside US, cotton is commercially cultivated mainly in the southern states (Texas, California, Georgia, Arkansas, Oklahoma etc.)
How long does it take for a cotton plant to grow?
On average, cotton plants need 5,5 to 6,5 months (from planting) to fully produce fiber.
Do you have a question regarding cotton? Please share your question in the comments below. We will make our best to answer as soon as possible.
3.) Cotton Plant Growing Conditions
4.) Cotton Sowing – Seeding Rate – Number of Plants per Acre & Hectare
6.) Cotton Plant Fertilizer Requirements
10.) Q&As Cotton
Do you have experience in Cotton cultivation? Please share your experience, methods and practices in the comments below. All the content you add will be soon reviewed by our agronomists. Once approved, it will be added to Wikifarmer.com and it will influence positively thousands of new and experienced farmers across the world.
This post is also available in:
Español
Français
Deutsch
Nederlands
العربية
Türkçe
简体中文
Русский
Italiano
Ελληνικά
Português
한국어