Q&As Almond Tree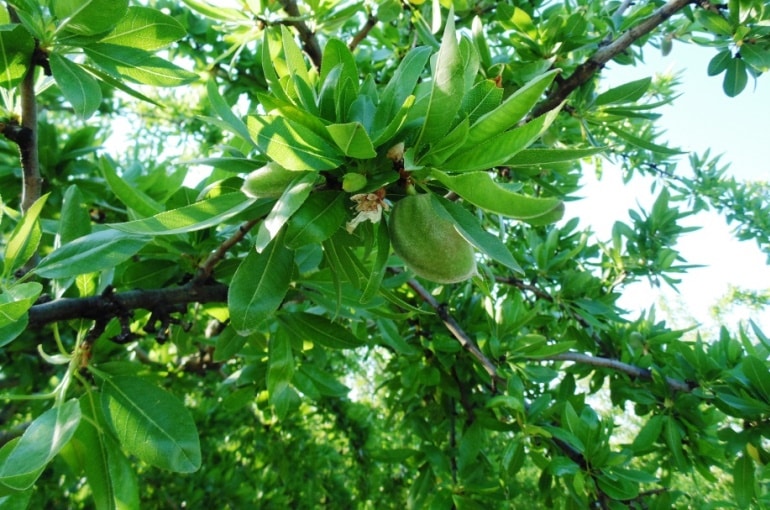 Trees
This post is also available in:
This post is also available in:
Español (Spanish)
Français (French)
Deutsch (German)
Nederlands (Dutch)
العربية (Arabic)
Türkçe (Turkish)
简体中文 (Chinese (Simplified))
Italiano (Italian)
Português (Portuguese (Brazil))
Show more translations
Show less translations
Are almond trees deciduous?
Yes. Almond trees drop their leaves seasonally.
Why are almond trees planted at an angle?
Almond growers often plant their trees so that they have an angle of 8-14o into the prevailing wind. This technique is believed to protect trees from fungal or root rots. However, if there is a strong wind having the opposite than normal direction, it can diminish a part of the almond orchard. Read a related story.
How tall do almonds trees grow?
15 to 30 feet.
Can you grow an almond tree from an almond?
Of course. However, as it happens in most fruit trees (citrus, apple, olive, nuts), a tree grown from seed will get into fruition much later than a tree that is a combination of a carefully selected rootstock and a scion. A tree grown from seed may not produce fruits for the whole of its lifetime for various reasons. However, you can feel the joy of growing your own tree from seed by reading our guide.
Are peaches and almonds related?
Of course. Both peach and almond belong to the family Rosaceae. They even belong to the genus Prunus and the sub-genus amygdalous.
Do you have a question regarding almond tree? Please share your question in the comments below. We will make our best to answer as soon as possible.
2.) How to grow an Almond Tree from seed
3.) Growing Almond Trees for Profit
4.) Almond Tree Climate Requirements
5.) Almond Tree Soil Requirements & Preparation
8.) Planting Almond Trees – Number of Almonds Trees per hectare and acre
10.) Almond Tree Water Requirements
11.) Almond Tree Fertilization
12.) Almond Tree Harvest & Yield
13.) Almond Tree Pests and Diseases
14.) Q&As Almond Tree
15.) Wholesale Almonds for Sale 
Do you have experience in Almond Tree cultivation? Please share your experience, methods and practices in the comments below. All the content you add will be soon reviewed by our agronomists. Once approved, it will be added to Wikifarmer.com and it will influence positively thousands of new and experienced farmers across the world.
This post is also available in:
Español
Français
Deutsch
Nederlands
العربية
Türkçe
简体中文
Italiano
Português