Planting Walnut Trees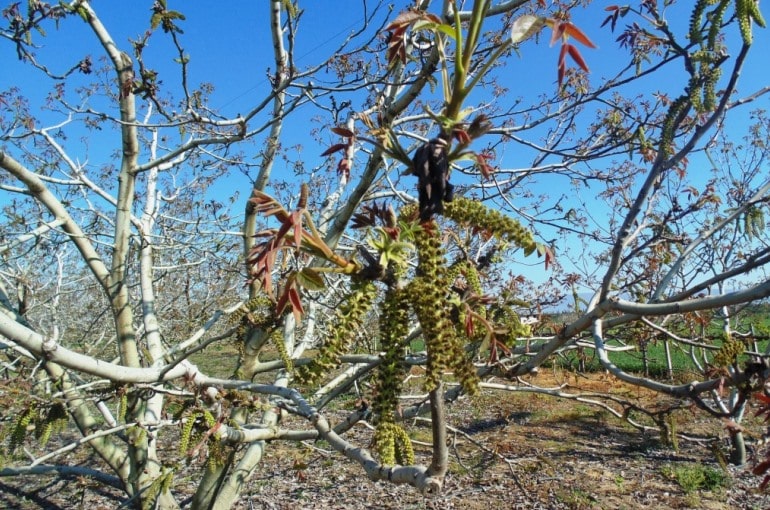 Trees
This post is also available in:
This post is also available in:
Español (Spanish)
Français (French)
Deutsch (German)
Nederlands (Dutch)
العربية (Arabic)
Türkçe (Turkish)
简体中文 (Chinese (Simplified))
Italiano (Italian)
Ελληνικά (Greek)
Português (Portuguese (Brazil))
Show more translations
Show less translations
English and Black Walnut Trees Planting, Spacing and Number of Trees per Hectare and Acre
Before planting, we have to label the tree positions in the field. As a rule of thumb, when we grow walnuts for wood (timber), we shall plant the trees more closely than when we grow them for nuts. If we plant the trees in a dense scheme, the trees will mutually shade each other and their side and lower branches will not grow well. As a result, trees will grow straight up and their main trunk will become longer. This is exactly what we desire when we grow walnuts for wood. On the contrary, when we grow walnuts for nuts (and secondly for wood), we want to promote side growth, vegetation and fruit set. Consequently we have to leave at least 14 feet (4,2 meters) distance between the trees, and hence plant fewer trees per acre.
Typical planting distances when we grow walnut trees for wood are 8 X 8 feet (2,4 X 2,4 meters), which result in 681 trees per acre, or 1682 trees per hectare. Typical distances when we grow walnut trees for nuts are 17 X 17 feet (5,2 X 5,2 meters), which result in 151 trees per acre, or 373 trees per hectare. However, most walnut farmers thin (remove) the less vigorous and less productive trees, so that finally the planting distances become 25 X 25 feet (7,62 X 7,62 meters), which result in 70 trees per acre or 173 trees per hectare. Especially when cultivating black walnut for nuts, the thinning often lets on average 30 X 30 feet (9,1 X 9,1 meters) distances. Keep in mind that 1 hectare = 2,47 acres = 10.000 square meters.
Many walnut farmers choose to cultivate another crop (for instance cereals) between the young walnut trees, so as to have an income during the first years of walnut orchard establishment. In this case, typical planting distances are 8 feet (2,4 meters) between the walnut trees in the row and 30 feet (9,1 meters) between the rows. These planting distances result in 182 trees per acre or 450 trees per hectare. Having a mixed orchard of walnut trees and another crop has been reported to result in lower yields than having pure nut orchards.
Labeling the tree positions is followed by digging and opening the holes. The holes have typically dimensions 1,5 X 1,5 feet (45 X 45 cm) and a depth of 2 feet (60 cm). Keep in mind that -in most cases- the young walnut trees are planted bare root and during spring. When we put the young trees in the holes, we also have to place the supporting stakes. The seedlings must be planted at roughly the same depth, as they were planted in the nursery, and then we have to put plenty of surface soil to the base of the root system of seedlings. When adding the soil, we have to press it gently, until the complete filling of the pits, so as to avoid causing damage to the young and sensitive root system. Planting is followed by the watering of seedlings. Many walnut farmers then add a small amount of well-rotted manure around the seedling base. They do this in order to prevent the germination of weeds' seeds and to maintain adequate soil moisture. These two factors can significantly affect the growth of seedlings during their first years. In some cases, walnut growers place a special black weed-preventing mat around the base of the newly planted walnut tree (ask a certified agronomist in your region).
You can enrich this article by leaving a comment or photo of your walnut trees planting methods, distances and trees population.
2.) How to grow Walnut Tree from nuts
4.) Walnut Tree Climate Requirements
5.) Walnut Tree Soil Requirements & Preparation
6.) Walnut Tree Propagation & Pollination
7.) Planting Walnut Trees – Number of Walnut Trees per Acre
8.) Walnut Tree Pruning and Thinning
9.) Walnut Tree Water Requirements
10.) Walnut Tree Fertilizer Requirements
11.) Walnut Tree Harvest & Yields
12.) Walnut Tree Diseases & Pests
14.) Wholesale walnuts online – Current Walnut Prices
Do you have experience in Walnut Tree cultivation? Please share your experience, methods and practices in the comments below. All the content you add will be soon reviewed by our agronomists. Once approved, it will be added to Wikifarmer.com and it will influence positively thousands of new and experienced farmers across the world.
This post is also available in:
Español
Français
Deutsch
Nederlands
العربية
Türkçe
简体中文
Italiano
Ελληνικά
Português