Pistachio Tree Planting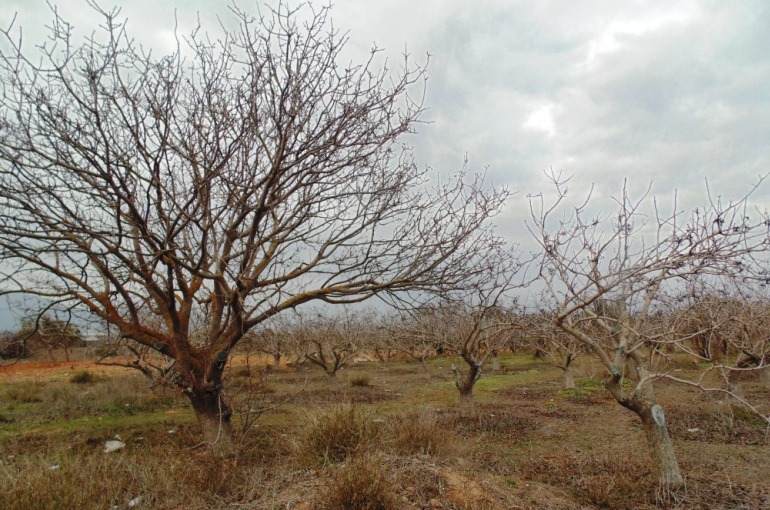 Trees
This post is also available in:
This post is also available in:
Español (Spanish)
Français (French)
Deutsch (German)
Nederlands (Dutch)
العربية (Arabic)
Türkçe (Turkish)
简体中文 (Chinese (Simplified))
Italiano (Italian)
Português (Portuguese (Brazil))
Show more translations
Show less translations
Transplanting Pistachio Tree – Number of Pistachio Trees per hectare and acre
Planting of young pistachio seedlings in the field can take place from late fall (November or definitely after the defoliation has been completed) until the beginning of spring.
Before planting, we have to label the tree positions in the field. The pistachio trees should normally not be planted in less than 20 feet (6 meters) distance, especially when the soil is fertile enough. If they are planted in less than 20 feet distances, after a few years, the overcrowding and the mutual shadowing of trees will decrease the quantity and quality of production and will make harvesting and pruning more difficult. Typical distances are 20 X 20 feet (6 X 6 meters), 23 X 23 feet (7×7 meters) and 23 X 20 feet (7 X 6 meters). 20 X 20 feet distances result in 109 trees per acre, or 272 trees per hectare.
In small orchards, we have to place ideally 1 male tree in the center of every 7-9 female trees. The position of the male tree must be in the center of every 7-9 female trees, so as to facilitate the dispersal of pollen through the air around the pistachio farm. However, in large pistachio orchards with 600 trees and more, farmers often place 1 male tree every 21 or more female trees.
Labeling the tree positions is followed by digging and opening the holes. The holes have typically dimensions 1,5 X 1,5 feet (45 X 45 cm) and a depth of 2 feet (60 cm). Keep in mind that the young pistachio trees are often planted with the nursery's soil ball attached to their sensitive root system. When we put the young trees in the holes, we also place the supporting stakes. The seedlings must be planted at roughly the same depth as they were planted in the nursery, and then we have to put plenty of surface soil to the base of the root system of seedlings. When adding the soil, we have to press it gently, until the complete filling of the pits, so as to avoid causing damage to the young and sensitive root system. Planting is followed by the watering of seedlings. Many pistachio farmers then add a small amount of manure around the seedling base. They do this in order to prevent the germination of weeds' seeds and to maintain adequate soil moisture. These two factors can significantly affect the growth of seedlings during their first years.
You can enrich this article by leaving a comment or photo of your pistachio tree's planting methods.
1.) Pistachio Tree Information
2.) How to grow Pistachio Tree from nut
3.) Starting a Pistachio Orchard
4.) Pistachio Tree Growing Conditions
5.) Pistachio Tree Propagation and Pollination
6.) Pistachio Tree Soil Conditions and Preparation
7.) Pistachio Tree Planting
8.) Pistachio Tree Training and Pruning
9.) Pistachio Tree Fertilizer Requirements
10.) Pistachio Tree Water Requirements
11.) Pistachio Tree Harvest & Yields
12.) Pistachio Tree Diseases & Pests
Do you have experience in Pistachio Tree cultivation? Please share your experience, methods and practices in the comments below. All the content you add will be soon reviewed by our agronomists. Once approved, it will be added to Wikifarmer.com and it will influence positively thousands of new and experienced farmers across the world.
This post is also available in:
Español
Français
Deutsch
Nederlands
العربية
Türkçe
简体中文
Italiano
Português