Pigs Health, Diseases & Symptoms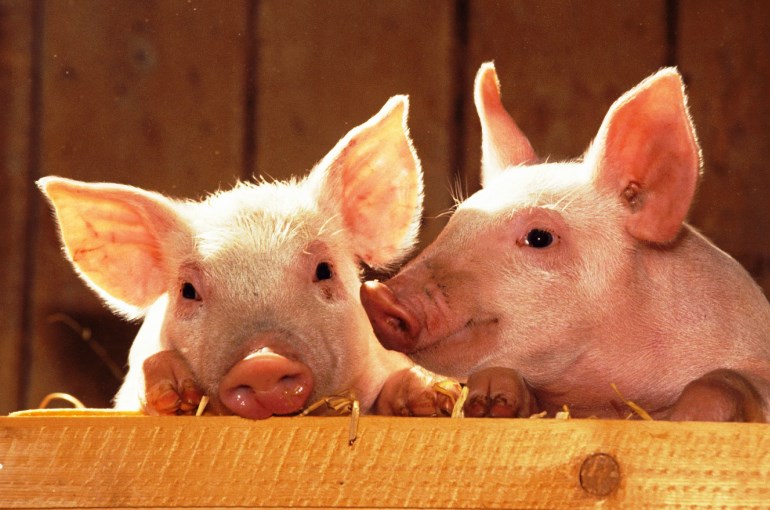 Pigs
This post is also available in:
This post is also available in:
Español (Spanish)
Français (French)
Deutsch (German)
Nederlands (Dutch)
हिन्दी (Hindi)
العربية (Arabic)
简体中文 (Chinese (Simplified))
Русский (Russian)
Italiano (Italian)
Ελληνικά (Greek)
Português (Portuguese (Brazil))
Tiếng Việt (Vietnamese)
Indonesia (Indonesian)
한국어 (Korean)
Show more translations
Show less translations
Pigs often suffer from internal parasites and skin diseases. It is good to deworm our pigs every 6 weeks (consult your vet). Contemporary deworm medication is very safe for pigs and for humans.
We must also regularly check for the wellbeing of our pigs. We should get suspicious of our pig's health if we observe one of the followings: The pig is not interested in eating or drinking water for a couple of hours. The pig breathes very quickly. The pig suffers from diarrhea. The pig separates from the herd and keeps itself constantly isolated. The pig does not move and rather prefers to sleep most of the time. For any case, we must always have in hand the telephone number of the local licensed veterinarian.
For farmers that have housed different animals in their farms (pigs, goat, chickens), erysipelas can be a major problem. The disease is caused by a bacterium and can create chronic arthritis, swellings or sudden death in a range of animals. The bacterium can live in alkaline soils for years, being extremely resistant to disinfectants.
Salmonellosis is also a major problem for pig farmers, because if it goes unnoticed and the infected pigs are finally slaughtered, consumers are in great danger of food poisoning. Most common symptoms of salmonellosis are again depression, diarrhea, loss of appetite and less often the tails of the pig (nose, ears, feet) turn blue.
Coccidiosis, mastitis, swine dysentery and gastric ulcers are also common diseases.
You can enrich this article by leaving a comment or photo of your pig's symptoms disease.
2.) Housing Pigs – Designing the Pig Farm
5.) Pigs Health, Diseases & Symptoms
6.) Pig Manure Production & Waste Management
Do you have experience in Pig farming? Please share your experience, methods and practices in the comments below.
All the content you add will be soon reviewed by our agronomists. Once approved, it will be added to Wikifarmer.com and it will influence positively thousands of new and experienced farmers across the world.
This post is also available in:
Español
Français
Deutsch
Nederlands
हिन्दी
العربية
简体中文
Русский
Italiano
Ελληνικά
Português
Tiếng Việt
Indonesia
한국어