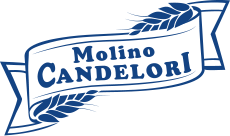 Molino Candelori
41 products
Minimum order value for this producer is €
70.00
Profile
Molino F.lli Candelori is an entrepreneurial story of tradition, passion and innovation. More than 100 years ago Massimo Candelori began his business by renting a water mill in a small district of Atri, in the Teramo region of Italy: thus began the story of the Candelori family tradition, handed down from father to son, until today. And today in the place of Massimo Candelori's small water mill we find a mill equipped with the latest technology, based in the industrial area of Casoli di Atri (TE).

Quality food products are mainly born from carefully selected raw materials. This is why we are committed to using the best national and European grains to guarantee superior products in terms of quality and food safety.

Quality is also the result of investments in innovation for grinding machines that are modern, safe and able to control the entire production process through the most innovative electronic systems, also making it possible to avoid contamination of the flours by any external agent.

We possess an analytical laboratory with machines capable of measuring the necessary parameters to always assure our customers products with the same high processing characteristics, preserving their naturalness. In addition, by using external laboratories, we ensure the absence of foreign substances. Our transportation network is equipped with vehicles, which enables us to efficiently and punctually manage the distribution of flour directly from production plants to customers' warehouses, without resorting to intermediaries.


Products