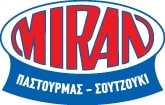 MIRAN
391 products
Aghios Ioannis Renti, Attica, Greece
Minimum order value for this producer is €
20.00
Profile
90 years tradition!

The wandering from 1915 with the Armenian genocide, in Constantinople and from there to Chios, Piraeus and Old Kokkinia. Where Grandpa Miran worked on the art he knew best: making Pastirma and Sujuk with all his mastery and all the secrets that, as it turned out, made people like them.

The efforts now go beyond the borders of Greece so that Miran products become known in other European countries. At the same time the company explores both, the possibilities for new products, as well as the expansion of the now historic store on Evripidou Street, in Greece.

Our goal always remains the commitment to quality.


Products
All

Flour & Baking Products

Butter

Canned Mushrooms and Mushroom Products

Cheese

Coffee

Dried Herbs - Teas - Decoctions

Fish and Seafood

Juices - Non Alcohol Drinks - Water

Legumes

Liquor - Cognac - Bitter

Meat Products

Olive Oil

Olives and Olive Products

Other Alcohol Products

Other Packaged Products

Other Products

Pasta

Sweets and Marmalades

Thyme Honey

Truffles

Wine