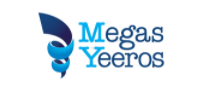 Megas Gyros
19 products
Aspropyrgos, Attica, Greece
Minimum order value for this producer is €
80.00
Profile
Get to know the incomparable quality and the pioneer position in the Greek Gyros ... Get to know the 'Megas Gyros' industry!

An exemplary unit for the preparation of meat products, where the most delicious gyros are made, the incomparable Souvlaki and the finest meat products that exist in the Greek market.

In a state-of-the-art factory, we follow the strictest rules of quality and hygiene at all stages of the production process, with state-of-the-art machinery and the most experienced staff.
With fresh meat from accredited producers, in combination with the purest spices, we apply rare recipes of pleasure creating products that stand out.

To enjoy the best relationship of taste and quality, with the guaranteed signature 'Megas Gyros'.

We also have the new Mega Meatless series, which introduces us to the world of "alternative" meat. A world that promotes healthy eating, proposes new eating habits, respects natural resources and the environment by creating favorite dishes in a completely new, healthy and, above all, innovative way.

Minimum order 2 boxes.


Products
All

Meat Products

Other Packaged Products
Reviews
All reviews are posted by verified buyers