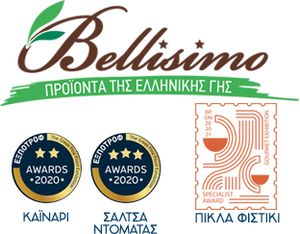 Bellisimo B2B
172 products
Petroupoli, Attica, Greece
Minimum order value for this producer is €
20.00
Profile
We are active in the field of commercial representation and marketing of products produced by small Greek producers.
In our company one can buy products, which have been strictly selected, by producers in Greece, whom we know and trust personally.

Our product range includes handmade pasta and jams, herbs and spices, naturally unprocessed salts, and delicious olives.

It is worth mentioning some of our special products such as Agiasiotiko kainari, kritamos, the traditional sun-dried tomato and the fresh tomato sauce, which will give a special touch to your store.
The above and many more can be elements in high quality gift basket compositions.


Products
All

Beauty Products

Dried Herbs - Teas - Decoctions

Flower Honey

Forest Honey - Pine Honey

Heather Honey

Oak Honey

Olives and Olive Products

Orange Honey

Other Packaged Products

Other types of Honey

Pasta

Pistachios and Peanuts

Soaps

Superfoods - Raisins - Dried Figs

Sweets and Marmalades

Thyme Honey