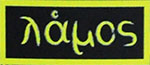 Lamos G.P.
2 products
Raches, Phthiotis, Greece
Minimum order value for this producer is €
50.00
Profile
"LAMOS G.P" is a family business active in the standardization and trade of olive oil and was founded in 2007 in Raches, Fthiotida, in a place that over the centuries produces products of high nutritional value. Its name comes from Lamos, who according to Greek Mythology was the son of Hercules and founder of Lamia, capital of Fthiotida. The
Lamos taught the first inhabitants to cultivate the Olive Tree and to produce olive oil of excellent quality.

Our company is inspired by the principles of the Mediterranean diet that has been recognized worldwide as the healthiest diet. The Mediterranean diet uses olive oil as the main fat in human nutrition.

Olive oil is a product that needs special care so that its quality and taste are the best possible. For this reason, great care is required at every stage of its life from the olive grove until the final consumption. This is exactly what "Lamos G.P" guarantees, as well as its exploitation, production of its own olive groves and the long olive tradition of its owners to
ensure the direct quality control of the products produced.

The company bottles the extra virgin olive oil "Lamos" in packages of 250 ml glass, 500
ml glass, 750 ml glass and 1lt glass.


Products