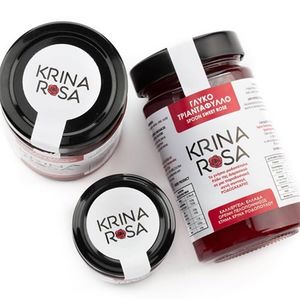 KRINA ROSA
4 products
Aigialeia, Achaea, Greece
Minimum order value for this producer is €
20.00
Profile
SMALL FAMILY BUSINESS
SOFT ROSE LEAF "FROM THE FIELD TO THE SHELF"

Cultivation -production/manufacturing/printing of Rose Spoon candies.

Our sweet rose is 100% from our own cultivation
We are the only laboratory in Greece that has - produced - standardized its exclusive culture.
The product is available on the market without intermediaries, literally "from field to shelf".
It is aimed at high-end consumers and primarily at deli stores.
Its variety is as old and hard to find as its recipe, which is why it can't be beat.
It grows at an altitude of 1200 m in particular climatic and geological conditions which give it its particular characteristics.
In addition to its unparalleled taste, its special characteristics also make it beneficial for human health and well-being.
It is also the most effective food because its benefits in the treatment of constipation and the proper functioning of the digestive system have been recognized and are also preferred by consumers for this purpose.
This is the only product from our small business/family workshop that we have on the market.
Our dessert is made to order only and will be delivered to you within 3-4 working days at the latest. For this reason, it is always fresh and retains its unbeatable quality and taste.
No coloring or additives are used in its preparation.
Our laboratory is accredited and applies all the procedures required by Greek and Community legislation (HACCP) for consumer safety. Our quality also contributes to the prestige of the company.
The expiry date of the product is 1 year.
We apply promotional activities such as electronic brochures and free packaging with a sample of our candies in your initial order to present us to your consumers, confident in our quality.
On the product label, in order to avoid any deception and for the safety of the consumers, there is also clearly all the information required by European and Greek legislation, including the data of the manufacturer, the place of cultivation, the location of an approved laboratory, nutritional values ​​table, content information, etc., in Greek and English, with certification of HACCP procedures.
It is also available in bulk as it makes an excellent topping for ice cream and sweet pastry creations.
In catering establishments, it can also be served as a delicacy, offering a
It can also be served as a dessert in the form of a complete taste feast, with the possibility of selling it in packages.
Suitable for hotel/tourist accommodation customers
A special quality and a warm welcome, a memorable taste of our country and your company.
It is most suitable for beautiful creations and gift baskets.
If you wish, you can also promote your business by adding your logo on the preparation.
KRINA ROSA sweet pink in this year 2022 has been distinguished and won prizes at the AFFA BY EXPOTROF 2022 and RUSSIA 2022 competitions!!!!

We dare to say with confidence that we have the best quality in our country.
For all the information you want with pleasure and interest we look forward to receiving your messages.


Products