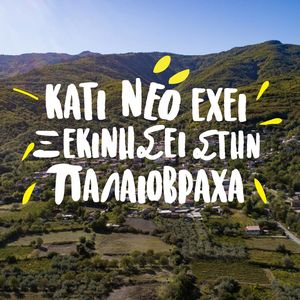 KoinSEp PALAIOVRACHA
9 products
Palaiovracha, Phthiotis, Greece
Minimum order value for this producer is €
20.00
Profile
In western Fthiotida, on a beautiful slope of Mount Goulinas, between oak and chestnut forests, is the semi-mountainous (450m altitude) village of Palaioovracha.
There, a group of people, 2 years ago, established the KoinSEp "PALAIOVRACHA" in order to join forces, to use abandoned lands, vineyards, olive groves, to show the local population outlets, to establish the power of cooperation, bond, and solidarity.
Fortunately, the cooperation with Greenpeace and the Agricultural University of Athens, provide us with the knowledge and scientific competence to succeed in implementing another agriculture, sustainable, revolutionary, that respects the environment, man, and future generations. Our practices will leave a world a little better than the one we received.
Wheat, legumes, tomatoes, spices, olives, grapes, figs, bees, are some of our activities.
Honey, flour, trachanades, oatmeal, pasta, sauces, legumes, nuts, almonds, peanuts, oil, olives, wine and tsipouro, are some of the products we produce, in limited quantities, with great taste, knowledge and love.
Our aim is to unite all these forces that share the same vision for a sustainable agriculture, the same passion for creation, the same need for development in anthropocentric and not economic terms, the same desire for solidarity and giving.


Products
All

Flour & Baking Products

Oak Honey

Other Packaged Products

Pasta
Reviews
All reviews are posted by verified buyers