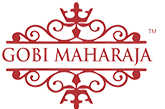 Gobi Maharaja Food Products
0 products
Gobichettipalayam, Tamil Nadu, India
Profile
Here at Gobi Maharaja, our motive is simple: providing quality products to customers as soon as it is produced. Gobi Maharaja has aimed to provide easily accessible quality products to consumers with affordable cost. Since children and women are highly vulnerable to the effects of chemically grown food and adulteration, eating quality food has become important nowadays. There is a myth that quality food is expensive but actually it is not – the price of quality foods is the real price of a product. Hence, don't hesitate to pay the original price of a product to get a quality and original product.

SUPPORT FARMERS
Gobi Maharaja procure raw materials from farmers at better price than the local market, hence, as a customer you also support farmers indirectly but your money went to farmers directly not any factory owners pocket.

WHOLESALE
We offer wide range of products to wholesale business customers including Grocery stores, Supermarkets, Health food retailers, Sweet shops, Tea shops and bakery, Speciality stores, online stores, buying houses and distributors.
Our biggest advantage is that we cater to small importers, distributors and wholesalers globally, who are looking for quality products from India.


Products