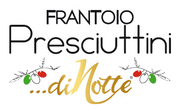 Frantoio Presciuttini
7 products
Montefiascone, Viterbo, Italy
Minimum order value for this producer is €
70.00
Profile
My name is Pierluigi Presciuttini and I grew up among olive trees and in my family's oil mill. My passion for these marvellous plants has driven me to undertake, with dedication and stubbornness, the search for continuous agronomic improvements in the management of olive groves, starting from the polyconic vase cultivation up to the instruments for indicating the correct harvesting period, always favouring a sustainable and natural cultivation and excluding the use of harmful chemical products, in the conviction that the natural quality of the product must always come first.

I currently manage around 3000 plants and almost all of them have been recovered from abandonment in the last 4 years. Many cultivars are Caninese, many others are frantoio and others are leccino and moraiolo.
With the aim of producing an absolutely extraordinary oil, I am always on the lookout for abandoned olive groves to recover. I am particularly attracted to plants that have been away from man for a long time as they are the best in terms of production quality and rusticity of bearing.

THE OIL MILL
The Mori-Tem oil mill
Born from the fifty-year experience of the founder Giuseppe, the Presciuttini oil mill used traditional processing with granite millstones and presses from 1962 to 2016. Since 2017, it has installed a modern two-phase extraction system without the addition of water under the MORI-TEM brand to further improve the already valuable characteristics of the EVO oils produced.
The Presciuttini Oil Mill also processes olives on behalf of third parties, olives that are delivered by local farmers, who by tradition and passion cultivate their olive groves respecting nature without using synthetic products or harmful substances. At present, the oil mill manages about 3000 trees throughout the province of Viterbo, from whose olives it obtains the fine EVO oils it markets.
Once the local production is finished, it is necessary to wait for the new season, as stocks are unlikely to remain.

RECOVERING ABANDONED FIELDS
A cautious estimate identifies around 100,000 abandoned plants in my area that no one has looked after or managed for years. Well, one of my objectives is to recover as many of these plants as possible, bringing them back into production and dealing with all aspects of the chain, from pruning to fertilising and harvesting and processing the fruit. It is a very serious commitment and a long-term project in which I am pleased to invest a lot of resources, because I am firmly convinced that Italy still has something important to say in world quality olive growing.


Products