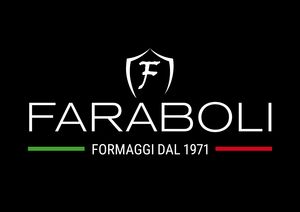 FARABOLI FORMAGGI
12 products
Minimum order value for this producer is €
70.00
Profile
Faraboli Formaggi is a company founded in 1971 as a result of the passion that the two founders, Rino and Silvio, have always had for the age-old culture of making cheese and which, in the province of Parma, has become a true art. Having become master cheesemakers in the production of Parmigiano Reggiano, the two founders decided to set up their own business on the Via Emilia, between Parma and Fidenza, an ancient and privileged territory for the production and aging of cheeses. Thus began a business philosophy that, from the selection of the product to the care of the seasoning, was able to respect traditional times and methods.
Since then, the Faraboli family has dedicated itself to enriching its "collection" of DOP cheeses in order to offer the market a careful selection of unique products. The collection started with all the varieties of Parmigiano Reggiano breed - Frisona, Vacche Rosse, SolodiBruna, Vacche Bianche - and gradually expanded to other cheeses such as Grana Padano, Caciocavallo and Provolone Valpadana Dop.
Today, the Faraboli company continues to respect the values and production traditions handed down by the founders, such as wood-fired maturing, which allows the product to mature while guaranteeing the right ripening times that give it fragrance and true flavor. Today, the children and grandchildren, together with the founders, continue to cultivate the passion that has guided them from the very beginning, combining the ancient tradition of aging methods with attention to every novelty that appears in a production that has been perpetuating the same secrets for nine centuries.


Products