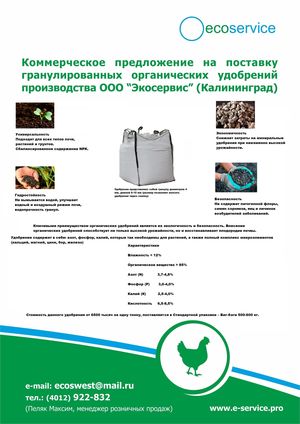 Ecoservice fertilizers
0 products
Kalininigrad, Kaliningradskaja oblast', Russian Federation
Profile
The Ecoservice company was founded in 2012. The production is located in Kaliningrad (Russia) on Kaliningrad's largest poultry farm. The Ecoservice company uses advanced technology in the production of organic fertilizer from the poultry manure compost, thereby making it possible to preserve the original value of the fertilizer and avoid the negative factor of nitrogen's turning into ammonia.

Due to the complex but accelerated process of fermentation and further heat treatment of the dung, obtained is a fertilizer with fixed nitrogen that can be easily absorbed by plants. This organic fertilizer production technology is unrivaled throughout the world, and foreign counterparts are only approaching our performance.

This fertilizer contains nitrogen, phosphorus and potassium, which are so necessary for plants, as well as a full range of microelements (calcium, magnesium, zinc, boron and iron).
But the most important advantage of this fertilizer is the organic component. After all, thanks to the organic components, the earth replenishes both its humus layer and the beneficial bacteria that are in the soil, activate their and enter into symbiosis with plants. Those microorganisms improve the structure of the soil, produce antibiotics against pathogenic bacteria, nitrogen-fixing bacteria fill the earth with nitrogen compounds, and metabolism improves.

Organic fertilizer is a high-quality fertilizer, the effect of which is 15-20 times higher than that of the traditional compost or humus, and can also replace mineral fertilizers, that destroy the soil structure and pollute underground waters.
The fertilizers are granules with a diameter of 4 mm, a length of 6-10 mm (the size allows you to apply fertilizers through a seeder).

Standard packing – Big Bags of 500 kg.

Russian farmers have already appreciated the key advantages of Ecoservice:

· All-purpose fertilizer: for all kinds of soil, plant and ground;

· Very low cost and easy application with high yields;

· It boosts crop yields by more than 30% compared to other fertilizers;

· The fertilizer has aftereffect for the following 2-3 years;

· It preserves the land and enriches the soil, increases its fertility for a long time;

· It is convenient for transportation, storage and economical in application;

· It will not be washed out with water, and it improves the water and air regime of soils;

· It contains all nutrients necessary for plants, that stimulate their development, and organic substances.

Due to the geographical location of the Ecoservice company, products can be supplied to any country of the European Union within a short time and at low transportation cost.


Products