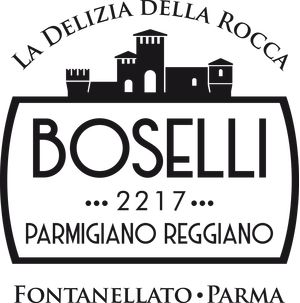 Parmigiano Reggiano Boselli
9 products
Minimum order value for this producer is €
70.00
Profile
It starts in our fields, where we grow fodder for our animals and continues in our stables where, daily, we milk over 180 cows bred respecting their well-being and fed with self-produced fodder.

From the 50 quintals of milk produced every day, in our dairies in Fontanellato and San Ruffino, we produce about 10 wheels of Parmigiano Reggiano.

From the Boselli family, farmers for 4 generations, comes Boselli Parmigiano Reggiano.

Made by pursuing the idea of the short chain of a product that naturally combines tradition, knowledge and love for nature: from the field to the table.

From the close bond with the territory we love, comes the decision to include in the logo and on the packaging of Boselli Parmigiano Reggiano the image of Rocca Sanvitale, a monument symbol of the territory where the happy symbiosis that allows the production of this natural miracle continues.


Products