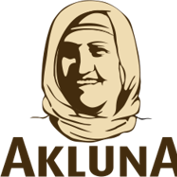 Akluna Natural Foods
3 products
Ramallah, Palestine Authority
Profile
From the heart of Ramallah, Akluna was established to cultivate traditional Freekeh, a durum wheat that is harvested whilst still green and roasted on an open fire. We work side by side with our farmers to deliver high quality Freekeh and other nutritious products to international markets. Our passion for the land inspired us to create Akluna with an aim to improve, maintain and increase awareness of Palestinian traditional products. We market products with special flavors that have been offered in the Holy Land for centuries, grown on family farms using natural chemical free methods.



Super grain, high quality premium Freekeh;

We select the finest crops from Palestinian farmers. The natural green color,sharp smell and delicious flavor gives our Freekeh a unique nutritional profile superior to other grains. With high fiber and protein, our Freekeh is considered to be especially beneficial for your health and well-being. It contains vitamins and minerals like calcium, magnesium, zinc and B vitamins–all important for bone and muscle health.

Akluna's Freekeh is free from impurity and is known for its identical grain size. We produce our produce using the latest technologically that maintains the highest quality post and precooking.

Prepare a delicious soup with Freekeh; a super grain soup with chicken and nutty flavor and delightful textures. This Freekeh soup is a very tasty and hearty dish that can also be made using vegetable broth for a vegetarian or vegan version.

Our mission and value;

From the begining we have been working towards introducing and improving our natural Palestinian food products in the international markets. We are working hard with farmers to upgrade their knowledge and equipment, introduce new technologies and integrate new work practices to produce a higher quality product at a lower cost. As one of the biggest exporters in the region, with a large healthy traditional foods portfolio, we are mindful of the huge impact we can make through our scale and reach. Our mission goes beyond this, we want our brands to take a stance and act on the things that really matter. For instance, we go further in our work by building a high quality manufacturing facility, designed to meet international certification standards and quality control procedures.

Our well-known global brand has a long heritage of producing quality and nutritious foods.


Products