German Chamomile Plant Information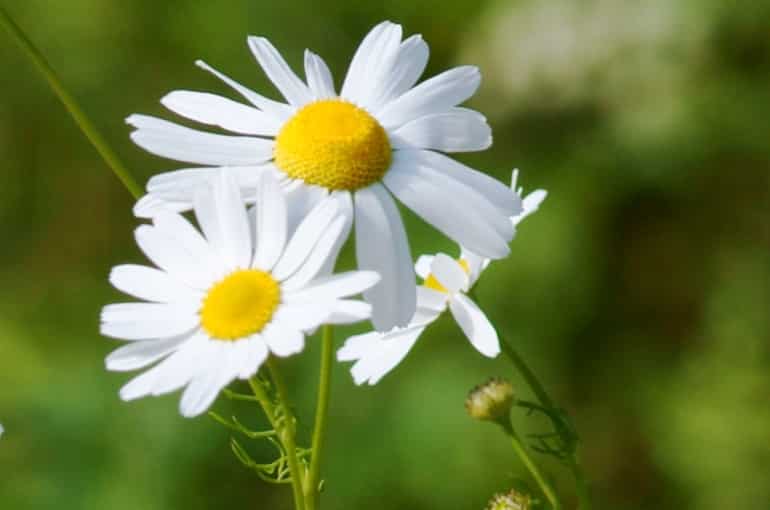 Herbs
This post is also available in:
This post is also available in:
Español (Spanish)
Français (French)
Deutsch (German)
Nederlands (Dutch)
العربية (Arabic)
Türkçe (Turkish)
简体中文 (Chinese (Simplified))
Русский (Russian)
Italiano (Italian)
Ελληνικά (Greek)
Português (Portuguese (Brazil))
Show more translations
Show less translations
German Chamomile Wiki
German Chamomile is an annual herb that belongs to the family of Asteraceae – the family of sunflower and daisy. The plant has a smooth stem that reaches a height of 8-36 inches (20-92cm) and develops shallow roots. The flowers look like those of the daisy plant. They are consisted of white petals and a conical yellow center. The chamomile flowers can bloom between spring and autumn, but in most cases they bloom from late spring to early summer. The scientific name of German Chamomile is Matricaria recutita, Matricaria chamomilla or Chamomilla recutita.
German Chamomile is one of the most important medicinal herbs. The plant can give a series of natural and high value products. It is widely cultivated commercially mainly for the essential oil that is contained in its flowers. German Chamomile essential oil has multiple uses, as it is used in pharmaceutical, cosmetic, fragrance, personal care and beverage industries. The chamomile flower also contains valuable constituents, such as terpenoids, flavonoids and other compounds with reported pharmacological activity. Moreover, dried flowers of German Chamomile are used for preparing teas as well as various other products (e.g. skin lotions). Finally, German Chamomile plant is grown as ornamental and is widely included in various flower arrangements.
Russian, Poland, Hungary, Slovakia, USA, Canada, Australia and New Zealand are major commercial producers of German Chamomile.
You can enrich this article by leaving a comment or photo of your German Chamomile plants.
1.) German Chamomile Plant Info & Uses
2.) How to grow German Chamomile at home
3.) Growing German Chamomile for Profit
4.) German Chamomile Growing Conditions
5.) Growing German Chamomile from Seed and Planting
6.) German Chamomile Water Requirements
7.) German Chamomile Fertilizer Requirements
8.) German Chamomile Weed Control
10.) German Chamomile Essential Oil Yield
Do you have experience in German Chamomile cultivation? Please share your experience, methods and practices in the comments below. All the content you add will be soon reviewed by our agronomists. Once approved, it will be added to Wikifarmer.com and it will influence positively thousands of new and experienced farmers across the world.