Cotton Water Requirements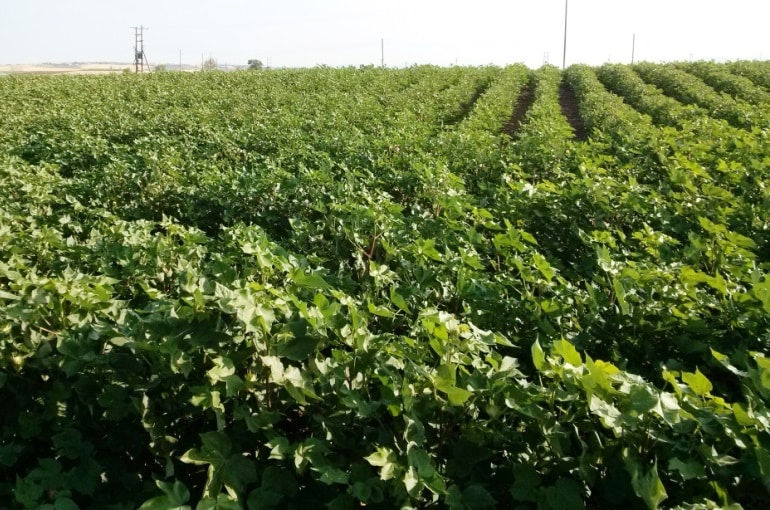 Special Crops
This post is also available in:
This post is also available in:
Español (Spanish)
Français (French)
Deutsch (German)
Nederlands (Dutch)
العربية (Arabic)
Türkçe (Turkish)
简体中文 (Chinese (Simplified))
Русский (Russian)
Italiano (Italian)
Ελληνικά (Greek)
Português (Portuguese (Brazil))
한국어 (Korean)
Show more translations
Show less translations
How to irrigate cotton plants – Cotton Irrigation
As a rule of thumb, cotton plant needs a minimum of 500 mm of water between germination and boll formation. A great percentage of US cotton is produced in non-irrigated fields. However, growing commercially cotton plants without providing artificial water supply is not an easy task. The problem is not that the cotton plant needs water in order to thrive, but the fact that it needs water at very specific periods during its development. If you choose to rely solely on rainfalls, your production is at risk and the chances are that it will fluctuate over the years.
In areas with no adequate winter rainfalls, farmers irrigate well the fields before sowing. In most cases, farmers do not irrigate often in the period between the sowing and blooming. Once the plants bloom, cotton growers begin to irrigate more often, every 5-7 days, depending on other parameters. In about 140 days after planting or 45 days after bolls appear, the cotton boll will begin to naturally split open along the bolls segments and start to dry out. At that period (around late summer), many farmers stop the irrigation (or irrigate lightly just once every two weeks), so as to help the cotton dry out easier. Drip irrigation is mostly used in cotton fields, but there are other methods as well (flooding, center pivots etc.).
Read more on Cotton Plant Irrigation
You can enrich this article by leaving a comment or photo of your cotton plants irrigation methods and techniques.
3.) Cotton Plant Growing Conditions
4.) Cotton Sowing – Seeding Rate – Number of Plants per Acre & Hectare
6.) Cotton Plant Fertilizer Requirements
7.) Cotton Water Requirements
Do you have experience in Cotton cultivation? Please share your experience, methods and practices in the comments below. All the content you add will be soon reviewed by our agronomists. Once approved, it will be added to Wikifarmer.com and it will influence positively thousands of new and experienced farmers across the world.
This post is also available in:
Español
Français
Deutsch
Nederlands
العربية
Türkçe
简体中文
Русский
Italiano
Ελληνικά
Português
한국어