Cotton Plant Pollination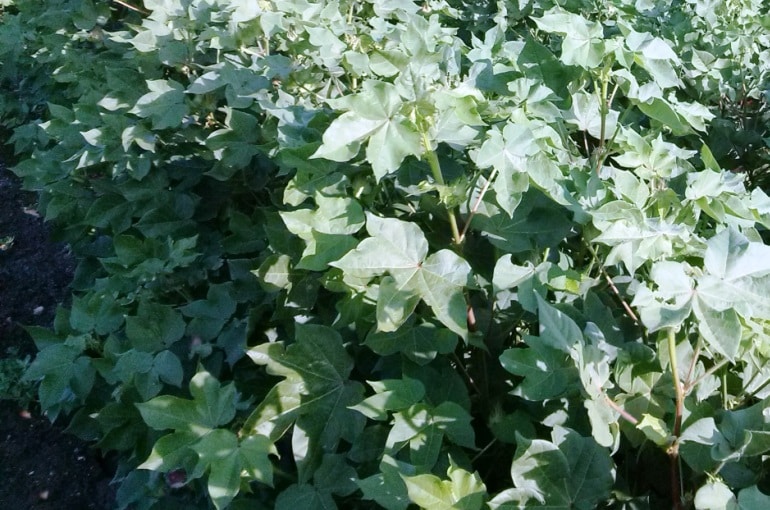 Special Crops
This post is also available in:
This post is also available in:
Español (Spanish)
Français (French)
Deutsch (German)
Nederlands (Dutch)
العربية (Arabic)
Türkçe (Turkish)
简体中文 (Chinese (Simplified))
Русский (Russian)
Italiano (Italian)
Ελληνικά (Greek)
Português (Portuguese (Brazil))
한국어 (Korean)
Show more translations
Show less translations
Some cotton plants are self-fertile and self-pollinating, while others need pollinators. Theoretically, the average self-pollinating cotton plant does not need bees in order to pollinate and produce fiber or seeds. However, it has been estimated that the visits of bees to all cotton plants (self-fertile or not) increase final fiber production by at least 10% in weight, while the quantity of seed production also increases. Each cotton plant can only be pollinated on average for just one day, the day when the flower is open. Consequently, placing 1-2 healthy beehives per 1 hectare of cotton crop (1 hectare = 10.000 square meters = 2,47 acres) during the exact period of flowering (summer) has been found to be beneficial in some cases. However, in many areas, placing on purpose beehives inside the cotton field is not necessary, as honeybees are naturally attracted to the cotton plant, and can travel from miles away in order to forage and collect its pollen.
You can enrich this article by leaving a comment or photo of your cotton plants pollination methods and techniques.
3.) Cotton Plant Growing Conditions
4.) Cotton Sowing – Seeding Rate – Number of Plants per Acre & Hectare
5.) Cotton Plant Pollination
6.) Cotton Plant Fertilizer Requirements
Do you have experience in Cotton cultivation? Please share your experience, methods and practices in the comments below. All the content you add will be soon reviewed by our agronomists. Once approved, it will be added to Wikifarmer.com and it will influence positively thousands of new and experienced farmers across the world.
This post is also available in:
Español
Français
Deutsch
Nederlands
العربية
Türkçe
简体中文
Русский
Italiano
Ελληνικά
Português
한국어