Cotton Harvest & Yields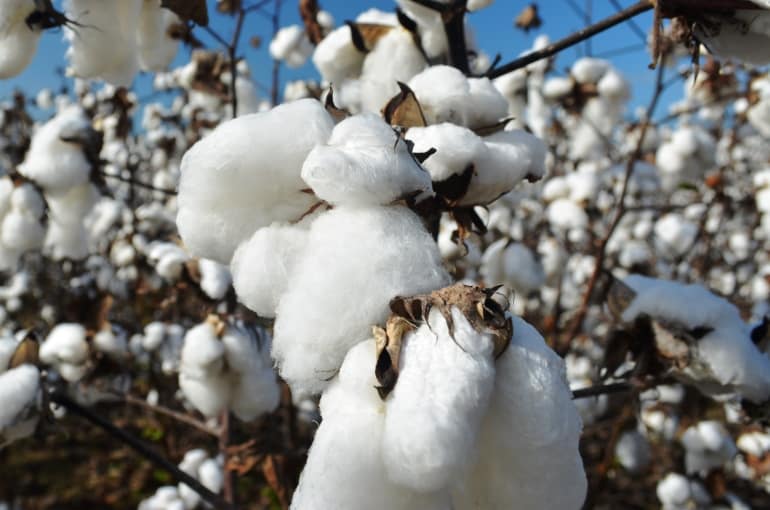 Special Crops
This post is also available in:
This post is also available in:
Español (Spanish)
Français (French)
Deutsch (German)
Nederlands (Dutch)
العربية (Arabic)
Türkçe (Turkish)
简体中文 (Chinese (Simplified))
Русский (Russian)
Italiano (Italian)
Ελληνικά (Greek)
Português (Portuguese (Brazil))
한국어 (Korean)
Show more translations
Show less translations
Harvesting Cotton and Cotton Yield per Acre
5,5 to 6,5 months after sowing, cotton is normally ready to be harvested. As it happens in any other crop, knowing exactly which day to harvest requires years of experience. We harvest during autumn (September – October in most areas of US) with cotton harvesting machines. These machines are typically very big tractors that strip the fibers from the plants and collect the bolls. Immediately after the harvest, it is good to destroy the remaining of cotton plants with a shredder and then make a very good plowing of our field.
On average, we can harvest from 2 to 4 tons (4400 to 8800 lbs.) of cotton per hectare, or 0,8 to 1,6 tons (1760 to 3527 lbs.) per acre. Keep in mind that 1 ton = 1000 kg = 2.200 lbs. and 1 hectare = 2,47 acres = 10.000 square meters. What we harvest from the field is called unginned cotton and it does not represent a traded product. We have to give cotton to a cotton ginner, which is a machine that quickly and easily separates cotton fibers from their seeds and other objects. It is estimated that 1 lb. of unginned cotton contains 32-33% cotton fibers, 52-54% cotton seeds and around 15% foreign objects (stones, leaves, dirt etc.). However, there can be significant deviations from these figures.
Thus, the expected yield of ginned cotton is 0,66 to 1,33 tons (1455 to 2932 lbs.) per hectare or 589 to 1187 lbs. per acre. Keep in mind that there can be significant deviations from these figures.
You can enrich this article by leaving a comment or photo of your cotton harvesting methods and yields.
3.) Cotton Plant Growing Conditions
4.) Cotton Sowing – Seeding Rate – Number of Plants per Acre & Hectare
6.) Cotton Plant Fertilizer Requirements
8.) Cotton Harvest & Yields
Do you have experience in Cotton cultivation? Please share your experience, methods and practices in the comments below. All the content you add will be soon reviewed by our agronomists. Once approved, it will be added to Wikifarmer.com and it will influence positively thousands of new and experienced farmers across the world.
This post is also available in:
Español
Français
Deutsch
Nederlands
العربية
Türkçe
简体中文
Русский
Italiano
Ελληνικά
Português
한국어