Chili Pepper Health Benefits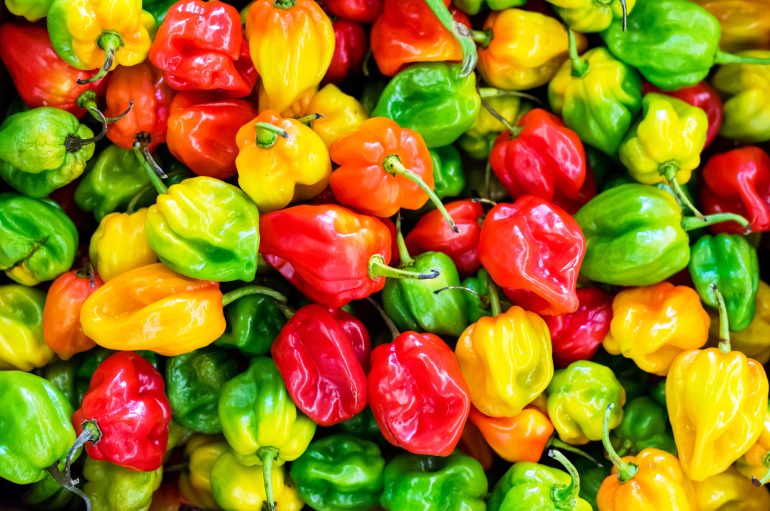 Vegetables
This post is also available in:
This post is also available in:
Español (Spanish)
Français (French)
Deutsch (German)
Nederlands (Dutch)
हिन्दी (Hindi)
العربية (Arabic)
简体中文 (Chinese (Simplified))
Русский (Russian)
Italiano (Italian)
Ελληνικά (Greek)
Português (Portuguese (Brazil))
Show more translations
Show less translations
Pepper and Chilies Health Benefits and Nutritional Value
Peppers contain a wide variety of nutrients, and some of them have been found to be beneficial for human health. Many of these elements have been reported to reduce the risk of some lifestyle-related diseases. However, what is worth mentioning is the unknown health benefits of chili peppers consumption. Chili peppers consumption can greatly benefit people, as it can:
Have Cardiovascular Benefits
Have Anti-Inflammatory Properties
Prevent Ulcers
Fight Cancer
Provide Natural Pain Relief
Boost Skin Health 
Help in Weight Loss
However, sweet peppers and chilies, like any other food, shall be consumed in reasonable quantities and only as part of a balanced diet.
According to USDA, 100g of raw hot chili pepper contain (among others):
Water: 87.74 g
Energy: 40 kcal
Total lipid (fat): 0.2 g
Carbohydrate: 9.46 g
Sugars total: 5.1 g
Fiber, total dietary: 1.5 g
Ca: 18 mg
Mg: 25 mg
K: 340 mg
Na: 7 mg
Fe: 1.2 mg
P: 46 mg
Vitamin A (RAE): 59 μg
Vitamin E (alpha-tocopherol): 0.69 mg
Vitamin C (total ascorbic acid): 242.5 mg
Folate: 23 μg
Chili peppers' consumption may boost heart health. 
Peppers contain heart beneficial substances such as Potassium, and Vitamin C. Studies have proved that the increase in potassium intake, combined with the decrease of sodium intake, can boost our heart health. Besides, chili peppers may reduce blood cholesterol and triglyceride levels, some common reasons for strokes and other cardiovascular diseases.
Chili peppers may have anti-cancer properties.
Chilli peppers contain a particular compound, capsaicin that, according to studies, has been shown to alter the expression of several genes involved in cancer cell survival, angiogenesis, and metastasis.
Chili peppers can relieve the pain naturally.
Capsaicin is used nowadays as a component of muscular pain relief patches. Besides, it is used as a treatment for osteoarthritis pain. According to studies, capsaicin, when applied topically, has beneficial properties against pain.
Chilli peppers may have anti-inflammatory properties.
Once again, capsaicin is responsible for the anti-inflammatory properties of chili peppers.
Improve Skin
Antioxidants content like beta-carotene and Vitamin C in red pepper can prevent skin damage and aging. These powerful antioxidants protect skin cells from UV and free-radical damage. 
Chili peppers may boost weight loss.
The magical food that makes you lose weight without any effort does not exist. However, some researchers claim that our bodies consume energy during a procedure called thermogenesis. Hot chili peppers increase this procedure a lot. Sweet red peppers also contain substances that increase thermogenesis. Capsaicin (contained in chili peppers) has been proven by some studies to boost metabolism and increase the burning of fat. 
Chilli peppers may prevent stomach ulcers.
Although many people believe that Chili peppers contribute to stomach ulcers, recent studies have surprisingly revealed the absolute opposite. Capsaicin contained in chili peppers may help prevent ulcers by reducing stomach acid. Capsaicin has also been found to help the stomach produce buffering juices. 
1.) Interesting Facts about chilies and sweet pepper
2.) Chili Pepper Health Benefits
3.) Growing Sweet and Hot Chili Peppers in my Backyard
4.) Growing Peppers for Profit – Pepper and Chilies Farming
This post is also available in:
Español
Français
Deutsch
Nederlands
हिन्दी
العربية
简体中文
Русский
Italiano
Ελληνικά
Português